.....Barrier Islands are always changing due to the movement of sediment. Most barrier islands in the Southeastern U.S. have a noticeable elongate shape. Elongation is in part the result of sand being moved in a direction parallel to the beach also known as longshore drift. This movement of sediment, which is generally in a southward direction here in the Southern U.S., causes many barrier island to be eroded on the northern end, while the southern end generally grows in the form of a recurved spit.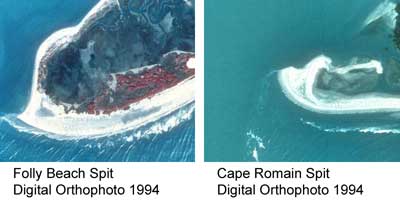 (click on image for higher resolution)
.....Along much of the Southeastern U.S. barrier islands tend to be wider on the northern or updrift end of the island. Old vegetated dunes can be observed on these updrift ends, while hook shaped spits characterize the southern, or downdrift end of the island. This type of barrier island is known as a "drumstick" barrier island. It typically occurs in a mesotidal range, where the tidal range is between 2 and 4 meters. Bull Island, SC is a classic example of a "drumstick" barrier island.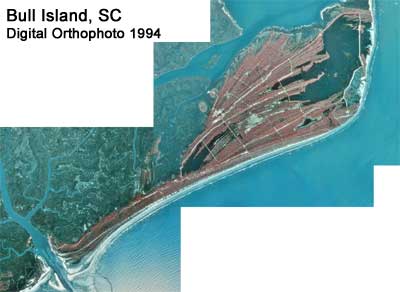 (click on image for higher resolution)
......In comparison, Folly Beach lacks this distinctive shape. The reason for this is unclear, but it does not seem to be caused by man's interference. As we can see from the maps in the history section, Folly Beach has had this narrow elongate shape long before the construction of the Charleston Harbor jetties, which are thought to impede sediment flow to the island.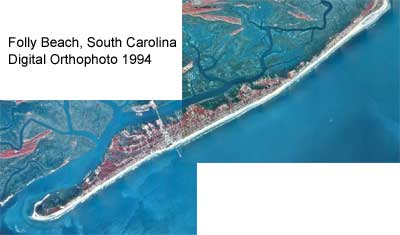 (click on image for higher resolution)