Students learn about science while 'At Sea'



Thursday, May 29, 2003


BY ADAM FERRELL
Of The Post and Courier Staff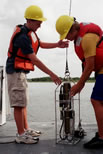 The sun beat down on the Nancy Foster's steel decks and on the backs of the necks of those aboard. The blue skies smeared with high clouds made for a perfect day at sea.

A state-of-the-art National Oceanic and Atmospheric Administration research ship, the Nancy Foster made the second mission of its life last week when its 17-member crew hosted guests from various walks of life on three voyages in the name of science. About 30 people were on one of the daylong cruises as the ship stopped four times along its path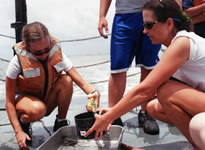 down the Cooper River, from the former Navy base out to sea. Each time, people worked in groups of six or seven to gather data that helped them understand how underwater conditions change with the environment. They deployed a device to measure the water's depth, temperature and salinity. They scooped material from the bottom to see what was in it. They charted their course, noting the tides and currents. They captured plankton from the water and looked at it under microscopes.
Those aboard included middle school students from McClellanville and high school students from James Island and North Charleston.A teacher, her friend and two of her students, all from St. Marys, Ga., were on board, and so were a Turkish couple who live in Athens, Ga.; he's a biomedical engineer at Georgia Institute of Technology and she's earning a Ph.D. at the University of Georgia.
One man from James Island soon will move to Saudi Arabia to teach. Along with the rest, they could have been the cast in a reality TV show that pits people against scientific questions. What they had in common was a message they received, either directly or through someone else, about a free opportunity to check out a local educational program.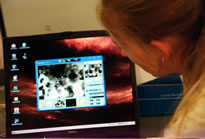 "Our primary objective is to experience how fun it is to do science," the program's director, Leslie Sautter, told everyone as the ship got under way. "Another objective is to learn oceanography by doing it." The At Sea program offers area students research cruises similar the ones last week. The only difference is At Sea includes a precruise workshop to prepare students for the cruise, and after the cruise, students analyze their findings and present them to an audience. The two-year-old program is part of Project Oceanica, an umbrella name for several evolving programs that mix education with scientific exploration. It is funded by NOAA's National Ocean Service and operated out of the College of Charleston's geology department, where Sautter is an associate professor.
NOAA provides free ship time for At Sea. Last week's ship time came to Project Oceanica when Gray's Reef National Marine Sanctuary off the Georgia coast donated leftover days from a recent research excursion there. It costs about $12,000 for a day's worth of operations on the Nancy Foster.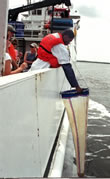 "We didn't know we'd have these extra days," said Dewey Golub, educational technology specialist with Project Oceanica. "We just wanted to open it up to more people."
Those who took advantage of the opportunity were glad they did. They got to explore a shipful of gadgets and machinery, were served a hearty lunch prepared fresh by the ship's cooks and got to see a little slice of the tedious work oceanographers conduct for weeks or months at a time.
"It's hands-on experience so I can learn more and pass that on to my kids," said one participant, Meg McKnight. She's earning a master's degree in math and science education from the College of Charleston.
The trips last week were similar to the informal research cruises Sautter started leading for groups of educators and college students eight years ago, before Project Oceanica was born. Those trips were aboard the NOAA ship Ferrel, which was retired last November after more than three decades of service. The newly outfitted Nancy Foster has about twice the capacity of the ship it replaced. "It gives us the ability to stay out longer and get more stuff done than the Ferrel," said Lt. Cmdr. Ralph Rogers, executive officer on the Nancy Foster. Also an improvement from the Ferrel, the Nancy Foster is completely computer controlled. It doesn't even have a steering wheel, just lots of joysticks, switches and buttons. And every device used on the bridge is accompanied by at least one just like it in case one should fail.
Project Oceanica is funded through January. It has tapped all it can from the National Ocean Service, Sautter said, and now its future and that of its two full-time staff members depend on finding a new funding source.
For more information about Project Oceanica, visit http://oceanica.cofc.edu.
Adam Ferrell covers downtown. Contact him at 937-5521 or at aferrell@postandcourier.com.