CofC Students Get Their Hands on Oceanographic Research



December, 2003


By Rachel McEvers, Program Manager, Project Oceanica
@ The Cistern, click here for a link to the article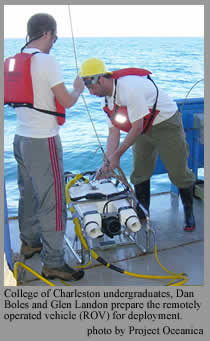 Project Oceanica at the College of Charleston has initiated an exciting new program called Transects. The Transects Program is designed to immerse and engage undergraduate and graduate students in oceanographic research by taking them to sea to collect biological and geological samples and later analyze the data in the laboratory. Late in November 2003, a total of 13 students (8 undergraduate and 5 graduate students) sailed with two CofC faculty members, Drs. Leslie Sautter (Geology Department) and Gorka Sancho (Biology Department) aboard the 92-foot research vessel "Savannah" for five days. They worked 8-hour shifts around the clock, employing a wide range of oceanographic equipment to sample the sea floor sands and the organisms living on the bottom and in the surface waters. "The students were amazing," Sautter commented. "After only 24 hours they understood the basics of the sampling process and took control of the entire operation. All Gorka and I had to do was direct traffic and oversee the sampling." Masters-level students served as mentors for the undergrads, and all students worked in collaborative teams to get the job done efficiently and safely. "They left the dock as students and returned as ocean scientists," Sautter added.

Five days at sea offered challenges for some, as rough seas were encountered at the onset. On day two, however, the seas calmed and everyone found their sea legs. From that point on, the cruise ran smoothly and was very productive.

Several students felt right at home on a ship and didn't want to get off at the end. Meghan Chafee, a marine biology major who'd never been on a cruise wrote on her student survey, "I honestly loved it. All of it. Nothing ever got boring." She added that she hoped to see herself as an oceanographer in the future…."forever."

Along with the collection of sand and organisms, students sampled the water chemistry and measured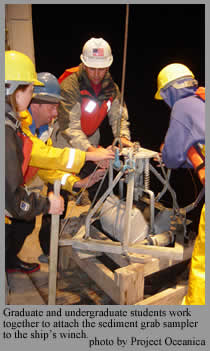 physical characteristics of temperature and salinity. Another instrument used was a remotely operated vehicle, or ROV - on loan from the National Undersea Research Center. This instrument is a roving vehicle with lights and a video camera that can be operated from the ship as it explores and video-tapes the seafloor. Oceanica's Dewey Golub and Rachel McEvers were the primary operators, though all the students were given the opportunity to "drive" the ROV. With his enthusiasm showing, Golub commented, "Using this instrument is like walking underwater and seeing the seafloor with your own eyes." One of the most exciting moments on the cruise was when a sea turtle was encountered, resting near a rocky ledge.
In the spring semester, each student will enroll in Sancho's and Sautter's course, Oceanographic Research. They will analyze most of the 280 samples collected, while conducting individual research projects. By the semester's end each will present their results in a public forum and post their results on the Project Oceanica website at http://oceanica.cofc.edu. Sancho emphasized that, "Our objective is to prove that students can collect, process, and analyze research-quality data while they learn oceanography first-hand." All of the data collected will be posted on the website on a growing database for anyone to use for educational or scientific purposes. "We hope that there will be additional Transects Programs along other parts of the southeast coast," Sautter added.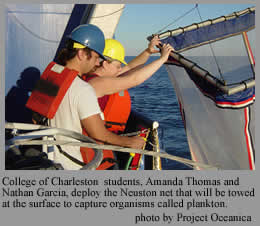 Transects is funded for two years by a grant written by Sautter and Sancho from the National Science Foundation. A total of four 5-day research cruises and follow-up Oceanographic Research courses will be offered over the 2 year project. On each cruise, the same stations sampled on last week's cruise will be revisited so that students will be able to examine the seasonal and inter-annual changes that occur. The next cruise is scheduled for May and the course will follow during the first summer session. A new scientific crew will participate on each cruise.

For more information on this program please contact Project Oceanica at oceanica@cofc.edu