April 29, 03

Mobilization (April 28th)
by Dewey Golub, Project Oceanica
Thanks to NASA United Space Alliance (USA) and Harbor Branch Oceanographic Institute (HBOI), we had a great media turn-out for our mobilization aboard the Liberty Star (Fig. 1) in Port Canaveral, FL. Local news stations and newspaper reporters interviewed several of the shipboard scientists.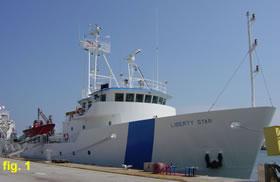 Andy Shepard (National Undersea Research Center, UNC-Wilmington) provided an overview of the Oculina Coral Banks mission and introduced the media to the Remotely Operated Vehicle (ROV) – named Phantom – that will be used to view and video-tape the seafloor for several hours each day of the cruise (Fig. 2).Grant Gilmore of Dynatech and NASA was on board to demonstrate the PAMS (Passive Acoustic Monitoring System) unit, which will be field tested at Oculina later in the mission to record and measure sound in the deep sea (Fig. 3).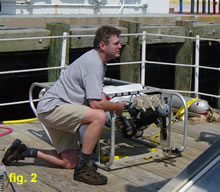 Also interviewed was Robert Brock, who represents NOAA National Marine Fisheries and Marine Protected Areas, who discussed the importance of deep water corals. John Reed, Chief Scientist of the mission, is a coral biologist from HBOI and has worked extensively with the Oculina Habitat Area of Particular Concern (OHAPC). He has studied the Oculina Coral Banks for over 20 years and was instrumental in providing the information that lead to its protection.
Following the media session, the scientific party gathered for a pre-cruise briefing to review the mission objectives and discuss the general plan and sampling routines. As with any introduction to a vessel, the ship's crew briefed us on safety procedures, including an abandon ship drill (Fig. 4).
We're confident we won't need to do this again although the information is always potentially useful!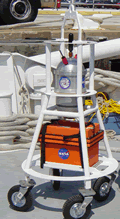 Throughout our 10-day mission there will be daily updates to the Oculina Coral Banks 2003 web site. Questions posted to scientists on board the ship are encouraged and we'll try to answer as many as possible. We invite you to join us on May 1 for 3 one-hour live webcasts which will begin at 11 AM. These webcasts will be transmitted via satellite from ship to shore and can be accessed via the Webcast link on the Oculina web site.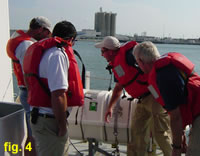 We've all had a long day, and we shove off at 0300 hrs in the morning to begin the cruise. We thank you for following along on this exciting mission to study Oculina.