Previous | Next | Gallery
Leg 1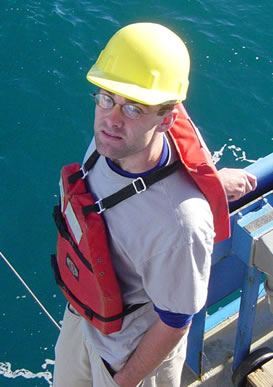 Name: Travis Debnam
What is your major? Geology with Environmental Studies minor
How did you become interested in this major or field? I love to be outside and actively involved in something. Larger time frames and earth formation processes have always interested me. Also, the Discovery Channel played an integral part in my childhood so that is probably where the interest was sparked.
Where do you see yourself five years from now? Hopefully I will have a job in an environmentally oriented field, working somewhere near the ocean.
What part of the research on this trip has interested you the most? I like to see the creatures that are dredged off the bottom. The ROV is awesome, but I also like to see how the core samples change from station to station.
What part of the research has interested you the least? Collecting water out of the CTD no instant gratification obtained from that.
Did you get sea sick on this trip? YES!