By: Rachel McEvers, Project Oceanica

It is the first day here aboard the M/V Liberty Star. We're setting up and getting ready to start our mapping surveys of the Oculina Banks Habitat Area of Particular Concern (OHAPC) tomorrow. We've had a couple of technical difficulties and will be starting a little later than planned but that just means we're even more anxious to get started. In the morning we'll be hearing a special presentation from John Reed about Oculina and the research that's already been done on the OHAPC. Look for more details on Oculina and the purpose of our mission on tomorrow's log.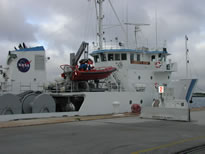 Fig. (The M/V Liberty Star awaits departure for the Oculina research expedition just south of the Kennedy Space Center in Cape Canaveral Florida.)

People from several organizations are participating in our research cruise. They include scientists from NURC, National Undersea Research Center, headed by Andy Shepard; John Reed from the Harbor Branch Oceanographic Institution; Rachel McEvers and Dewey Golub from Project Oceanica, and members of NOAA and Seafloor Systems Inc. The ship's crew is from USA, the United Space Alliance. They've got a great cook!

Our vessel, the M/V Liberty Star, is a 176ft. NASA survey ship, which has two main duties. Her main duty is the recovery of the boosters jettisoned from space shuttles during their launch. The second duty is to escort a specially designed barge to Louisiana to pick up a very large passenger.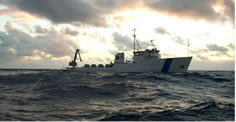 Fig. (NASA's M/V Liberty Star, normally used to recover shuttle booster rockets will conduct deep coral survey. Credit: J. Chaput.)


The external tank (ET), which provides fuel for the shuttle during launch, is manufactured in Louisiana and arrives at Kennedy Space Center on the barge. The ET is jettisoned into space once the space shuttle clears the Earth's atmosphere and bursts into tiny flaming pieces as it reenters the atmosphere. The Liberty Star also participates in search, rescue and salvage missions when necessary. If you'd like to know more about the ship you can visit the website at: http://www-pao.ksc.nasa.gov/kscpao/nasafact/shipspec.htm
We're going to have some exciting things going on so make sure you log on every day for the latest news. We'll talk to you soon!