Brent Manning (pictured below), one of our ship-mates, is a graduate student at the University of North Carolina at Wilmington. He will receive his M.S. in Marine Science in 2003. His expertise is in the field of Geographic Information Systems (GIS). After we collect all of our sonar data on the Oculina Banks, Brent will enter the information into the Oculina GIS project and website so that it can be used worldwide by other scientists.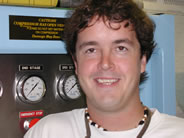 GIS Applications
By Brent Manning
Recent innovations in GIS have created a user-friendly environment that operates using a windows-equipped graphical user interface. As a result of these advancements, more people from a broad range of fields are using the technology. At present GIS systems are used by millions of people worldwide.
Prior to the development of GIS, individuals used paper maps and analog data to analyze problems that involved geography. As the technology has developed, users now have the ability to overlay multiple data sets and create their own data, relative to a given geographic position. These abilities have enhanced the problem solving capability and extended the utility to include a variety of applications.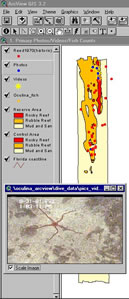 Fig. (GIS software uses drop down menus and an assortment of tools that allows you to create an interactive map.)

Recently GIS has been implemented into oceanographic research to enhance the analysis of habitats and seafloor topography. Remote sensing technology such as sidescan sonar and multi-beam bathymetry systems are converted into files, which can be viewed with GIS software. Once in this configuration, the data can be shared between scientists. In this mission, the data produced will be used by resource managers to plan future conservation measures.

A broad array of concerns, both economic and biological, complicate management of marine reserves (Stanbury and Starr, 1999). GIS provides tools for analyzing data, which can enable a cost-effective method for assessing and monitoring marine resources. Marine applications of this software range from site selection of artificial reefs (Wright et al., 1998) to recreational use trends (Waltenburger and Pickett, 1999). GIS projects are currently under development for the Monterey Bay National Marine Sanctuary, Channel Islands National Marine Sanctuary, and Fagatele Bay National Marine Sanctuary (Stanbury and Starr, 1999, Waltenburger and Pickett, 1999, Wright et al., 2001). The Oculina Banks GIS project represents an extension of these efforts, as well as the first attempt to create a GIS for a submerged coral reef system.

The Internet has also contributed to the popularity of GIS. Online users can now access a variety of data ranging from highway information to biological investigations. The Oculina website contains information on the history and legislation surrounding the reef system as well as an interactive GIS component. While online, users can explore the entire reef by accessing pictures and videos. These components were taken from underwater submersible dives, which took place during the 2001 Islands in the Stream Expedition funded by a NOAA/NMFS grant. Click here to visit the Oculina website.
Stanbury, K.B. and R.M. Starr. 1999. Applications of Geographic Information Systems (GIS) to habitat assessment and marine resource management. Oceanologica Acta, 22(6):699-703.
Waltenburger, B. and M. Pickett. 1999. Integration of NOAA aerial monitoring and GIS programs for research, education, and management within the Channel Islands Marine Sanctuary. Proceedings of the 5th California Islands Symposium. Santa Barbara, CA (USA), 29 March-1 April 1999. pp. 469-471.
Wright, D.J., B.T. Donahue, and D.F. Naar. in press, 2001. Seafloor mapping and GIS coordination at America's remotest marine sanctuary (American Somoa), In Wright, D.J. (ed.), Undersea with GIS, ESRI Press, Redlands, California, 32 pp.
Wright, R., S. Ray, D.R. Green, and M. Wood. 1998. Development of a GIS of the Moray Firth (Scotland, UK) and its application in environmental management (site selection for an 'artificial reef'). The Science of Total Environment, 223:65-76.

CAREER OF THE DAY: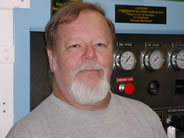 Paul Kolbe (pictured left) is the chief engineer on the M/V Liberty Star. He owned a bait and tackle shop on Lake Erie for many years. Since there was little to no business in the winter, Paul would go down to the Gulf of Mexico and help out in the engine room on various vessels. Eventually he started an apprenticeship and with his experience and sea time, he was able to earn his license.
Paul and the other engineers are vital to the operation of the ship. The engineers oversee the maintenance of ALL the systems aboard the ship. In case you're wondering, that includes propulsion, air conditioning, heating, plumbing, hydraulics, refrigeration, electrical, mechanical and more!! They have to know a lot!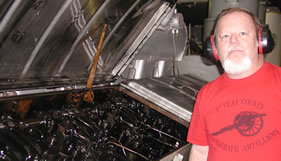 Fig. (Chief Engineer Paul Kolbe next to one of his 12 cylinder 1500hp EMD engines.)
Paul says he loves the variety of a career at sea. He's not real crazy about the paperwork but really likes everything else.
What kind of fish would Paul be? He says since he spent so many years near freshwater and fishing, he would be either a Black Bass or a Large-Mouth Bass.