The following narrative was written by our Co-Principal Investigator, Andy Shepard, after we found something very interesting on our sonar.
Operation Drum Beat…What Have We Found?

By: Andy Shepard, National Undersea Research Center, UNCW
"Measured by our previous experiences the Straits of Florida was only lightly guarded. Many of the American convoy escorts and U-boat hunters had been drawn off to the Pacific, only a few obsolescent warships remained." (P. Cremer, U-Boat Commander. 1986). During the spring and summer of 1942, the "floodlit" coast of Florida became a shooting gallery for the German Undersee submarines during operation "Drum beat." Unlike the shores of Europe at the time, the lure of American tourism dollars kept the lights on, and exposed ship traffic to lurking subs, some hiding in the hills of the Oculina Banks. Known wrecks like the Amazone and Halsey off St. Lucie Inlet were victims of Capt. Cremer and U-333. Many more ships were sunk while traveling the Gulf Stream. Some remain in unmarked watery graves.
Our multi-beam surveys yesterday revealed a ghostly image, complete with traces of bow, stern, and perhaps stack. It rises from a relatively featureless bottom in almost 90 meters of water, 80 meters long and 15 meters abeam; dimensions of a coastal freighter or tankers. Yet, we can only guess, for the existing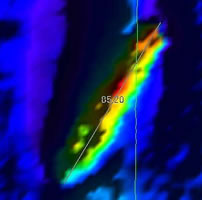 nautical charts have no sign of sunken ships within at least 10 miles.

Fig. (This is a screen grab of the imaging software and image of the WW II freight vessel that was discovered late last night. After passing over a target of questionable shape the imaging software compiled data to produce the startling image of a 240 ft. sunken vessel in 300 ft. of water. This vessel is thought to have been sunk by German U-Boats patrolling the coast of Florida during WW II. The position of the find is classified.)

Finding a previously unknown wreck conjures visions of buried treasure or historical artifacts. As we ran more lines over the mystery wreck, more heads crowded into the survey lab than on all other days of the survey. What holds most of our thoughts is that people were on the ship-- did they get off in time? Are there families who don't know where their ancestors lay at rest?
Is it possible that a ship of this size could go undetected? Yes. The possible wreck site lies in a "holiday" (gap) in the side-scan sonar survey done in 1995, so we missed it. NOAA charts we have were done with single-beam echo sounders that send down narrow beams directly below the survey vessel. At a depth of 90 meters the lines are not closely spaced and it is conceivable that the beam missed the wreck, or hit it but once, perhaps interpreted as a bad data point or small mound. Multi-beam swath surveys such as ours are the best way to find targets, but they do not reveal all.
We want to put a name with the image and unlock the history of our find. NOAA keeps a database of sunken ships. We will check it when we return to shore. We will talk to a local group that dives deep wrecks off the Florida coast. If all else fails, we will plan to explore the wreck with divers or an underwater robot next year when we return with our completed multi-beam survey.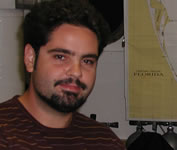 CAREER OF THE DAY:
Today's career isn't really a career, but a stepping-stone in the path to a career. We interviewed Socratis Loucaides (pictured left), a graduate student at the University of North Carolina in Wilmington (UNCW). He will graduate in May with a Master's in Marine Science. Socratis received his Bachelor's degree in Environmental Science from University of North Carolina in Asheville with a minor in Chemistry. The Marine Science Coordinator at UNCW was looking for someone who wanted to go on the Oculina cruise and he simply volunteered. He said he was really interested in the type of surveying that would be used on the mission (multi-beam and side-scan sonar). He will receive 1 credit hour toward his Master's after he writes a short paper on his experience.
Socratis became interested in marine science when he was young because he lived on an island. He decided early on that he wanted to get involved with the issue of marine pollution and water quality. He hopes to start on his PhD in August.
I asked Socratis what kind of fish he would be and he said an octopus (not a fish, but a marine invertebrate). Why? "Because they're very intelligent and really cool."