May 2, 03

The Lustrous Liberty Star

As you might imagine, a 176-foot, 1,052-ton ship requires some attention. The 10 men who comprise the crew of the NASA-owned M/V Liberty Star, (figure 1) home to this eight-day Oculina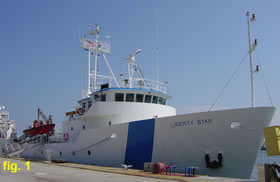 expedition, on the other hand require very little. They simply go about their business. But while these guys won't make any headlines, you'd best believe their presence is well acknowledged and most-highly appreciated by all aboard, totally dependant on their collective expertise.

To suggest the men of the Liberty Star crew go about their business "simply" is not to suggest they do so quietly. That would be a misperception. No; they make some noise, good-natured noise, contributing to an inclusive ad hoc culture.

Captain Bren Wade (figure 2) oversees a crew that includes a marine specialist, second mate, boatswain, engineers, divers, able-bodied seamen, a crane operator and a cook (anyone among the research team who doesn't return from this voyage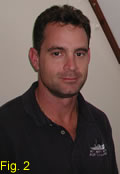 having not gained at least a pound or two, frankly just isn't cooperating: Rolando is treating us right).

These men have arrived onboard the Liberty Star from hometowns throughout the country, from vastly varied backgrounds and myriad motivations. They hold in common a kinship with the sea. They're drawn to the uniqueness of the lifestyle it affords and the challenges it presents.

"These are some great guys," says Wade, and the science team seconds the sentiment.

Wade comes by the love of his work genetically: his granddad worked on the NASA Gemini project. He's a native of Cocoa Beach, Fla., earned a BS in marine transportation from the U.S. Merchant Marine Academy and also holds an MBA from Webster University. He worked on tugboats in Seattle and Alaska for three years, then returned to his native Florida "to find work on a ship." He's been onboard the Liberty Star for 10 years, about a year now as captain.

The primary function of the Liberty Star is to recover the solid rocket boosters (SRBs) shed by space shuttles just after launch, and return them to the Kennedy Space Center for refurbishment. An SRB fully loaded with propellant weighs about 1.4 million pounds, stands 149.2 feet tall and is 12 feet in diameter. A shuttle is outfitted with two SRBs, which propel it to a speed of 3,512 miles per hour. Approximately two minutes after liftoff, the SRBs have expended their fuel, separate from the shuttle and, some five minutes later, drop into the Atlantic Ocean. Divers from the Liberty Star and another recovery vessel enter the water and connect one booster to each ship's towline; they're then towed back to Cape Canaveral Air Station (figure 3).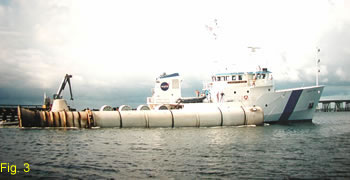 The Liberty Star was built at the Atlantic Marine Shipyard on Fort George Island, Fla., in 1981. The ship is 176 feet in length, 37 feet in width and draws about 12 feet of water. It's propelled by two main engines providing a total of 2,900 horsepower. It's capable of towing 60,000 pounds. The main engines turn two seven-foot propellers with controllable pitch, which provides greater response time and maneuverability. The ship is also equipped with two thrusters. The stern thruster is a water-jet system that allows the ship to move in any direction without the use of propellers, a system installed to protect the endangered manatee population that inhabits regions of the Banana River where the Liberty Star is based. This system also allows divers to more safely work near the ship during operations. The ship also is equipped with state-of-the-art Global Positioning System (GPS) navigation equipment.

In 1998 the Liberty Star began to take on new missions on NASA's behalf. It now tows Space Shuttle external tanks from New Orleans – quite a nice port-o-call, if you ask the Liberty Star gang – to Florida. It supports side-scan sonar operations, cable-laying, underwater search and salvage, drone aircraft recovery, serves as a platform for robotic submarine operations, and this week is hosting the Oculina expedition.

Bottom line: The Liberty Star and its crew are earning their keep, and then some – and apparently having a big time doing it.