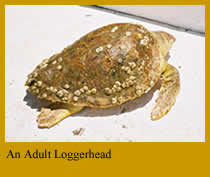 Project Oceanica staff was invited to join SCDNR veterinarian, Dr. Al Segars, to trawl for turtles.  In June 2003 we were given a 12-hour window into the efforts of a four-year research project studying sea turtle activity off the South Carolina, Georgia, and Florida coasts.  The goal of DNR's project, through hundreds of random but brief trawls along the coast, is to establish data on population abundance of sea turtle species, especially loggerheads, collect morphometric data (length, width, weight), identify animals via tagging and collect blood and tissue samples from captured turtles.  This information provides insight as to where the turtles are and where they are going, abundance of different species, percentage of females, males and juveniles, baseline health parameters and much more information.  While much is known about nesting females and hatchlings, juvenile and male sea turtle activity remains a mystery.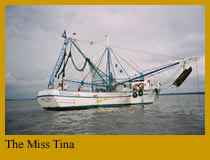 Our day began with a departure on board the Miss Tina, a shrimp trawler based out of Port Royal, SC.  Our goal for the day was to set the expansive large-mesh trawler nets at random locations for 30-minute trawls.  The short trawl times prevented any chance of the turtles running out of air and drowning before they could be brought on deck.  It was a slow day but we did capture two adult turtles.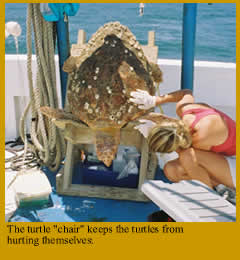 When a turtle is brought up on deck, great effort is made to gather as much information as quickly and accurately as possible.  The initial objective is to evaluate the turtle's breathing and to assess if it is in good general condition.  The turtle is electronically scanned to determine if it has been previously PIT tagged, because all turtles caught and released by SCDNR have been tagged.  A PIT is a very small electronic chip inserted under the turtle's skin, which provides identification and information specific to that turtle. The turtle is also visually examined for other tags or tag scars.  If a turtle has no tag it is immediately tagged with a single PIT tag as well as a clip-on metal tag in both front flippers.  Tagging will allow positive identification if the same turtle is ever found laying eggs on the beach, caught in a net, or otherwise stranded.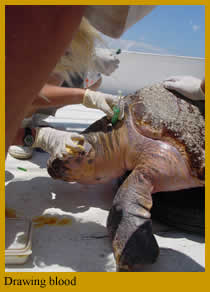 The turtle is measured for numerous body parameters including: carapace (shell) width, carapace length, body depth, tail length, and head width.  Several blood samples are drawn to gather information such as testosterone (to determine sex), mercury and contaminant levels (health and baseline levels in wild sea turtles), packed cell volume (anemia), etc.  Keratin samples are also taken from the shell to determine mercury concentrations. These samples are distributed to various collaborating researchers for analyses.  The turtle is then weighed using a rope harness and scale.  Finally, the sea turtle is examined to assess barnacle load, lesions, wounds (usually from sharks or boats), and a photo is taken before it is released back into the ocean.  All of these data are specially labeled and documented for each turtle so that later laboratory results can be correlated to a specific animal.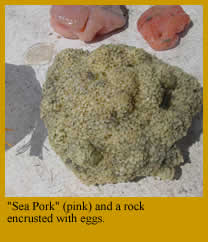 In addition to tagging sea turtles, the DNR team takes advantage of learning as much as possible from by-catch species in each trawl.  Targeted species like shark, shrimp, jellyfish horseshoe crabs and other economically valuable species are individually counted and weighed.  All other by-catch are categorized into groups such as 'invertebrates' or 'fish,' and cumulatively weighed.  This process is meticulously conducted for each trawl, so that no opportunity for data gathering is lost.  During our tagging cruise some by-catch was documented quickly enough to be returned to the water alive, but some species could not tolerate any time on deck.  Even as the pelicans, gulls and bottlenose dolphins approached, scientists and crew reminded us numerous times that everything would be recycled in the food web.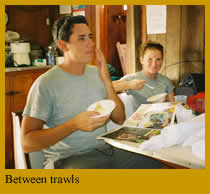 Time on board the Miss Tina between trawl locations was spent getting to know the veterinarians, interns and turtle volunteers, the captain, first mate and cook.  The vessel was large and comfortable, and Oceanica staff was treated wonderfully with plenty of good food and camaraderie.  Despite the good weather and minimal seas, the use of video equipment left our stomachs unsettled and we were anxious to find cool, flat surfaces.  The trip was broken into moments of frenzied excitement and work, followed by conversations and quiet naps.  It was truly wonderful to be part of a project that is making a difference in the conservation of these beautiful animals.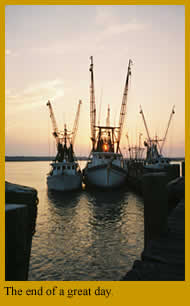 This project is administered by the South Carolina Department of Natural Resources through funding provided by the National Marine Fisheries Service, part of the National Oceanic and Atmospheric Administration (NOAA).  There are numerous partners who made this project possible.  They include:
University

of

Georgia Marine

Extension Service

Grice Marine Lab,

College

of

Charleston

University

of

South Carolina

University of

Georgia

College

of Veterinary Medicine

North Carolina

State

University

College

of Veterinary Medicine

Medical

University

of

South Carolina

Duke

University

NOAA National Marine Fisheries Service

NOAA

National

Ocean

Services

University

of

Florida

Clemson

University

National Institute for Standards and Technology

New England

Aquarium

Bald

Head

Island

Conservancy,

NC

Pritchard's

Island

, USC-B

eaufort

Wassaw

Island

/

Georgia

Southern University,

GA

Wildlife Conservation Society, St. Catherine's

Island

,

Ga.