Previous | Next | Gallery
Leg 2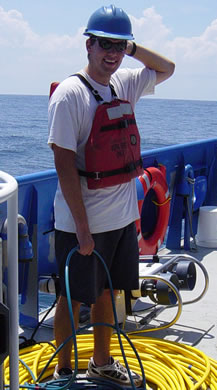 Name: Wes Dukes
What is your major? Marine Biology
How did you become interested in this major or field? I grew up on the water and have always been interested in fishing , diving, and other watersports. As a sophomore in high school I took my first marine ecology course and realized I could spend my life on the water.
Where do you see yourself five years from now? Cruising around the tropics on a sailboat after graduate school until I'm ready to make my education pay off and find a job cruising around on a research ship.
What part of the research on this trip has interested you the most? Bottom trawls are the most interesting. I would also like to learn more about the side scan sonar.
What part of the research has interested you the least? Plankton tows. Eventhough they are the easiest to perform and process, I find them pretty boring.
Did you get sea sick on this trip? No