Previous | Next | Gallery
Leg 3
Name: Elizabeth Symon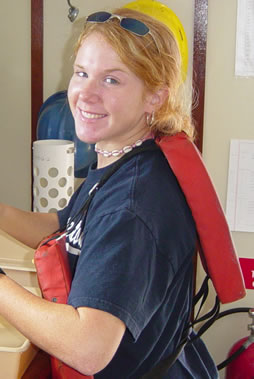 What is your major? Marine Biology
How did you become interested in this major or field? As a baby my parents had me in the water. Growing up they had me surrounded with National Geographics, Dicsovery Channel and Jacques Cousteau. Supposedly by the time I was six years old I told everyone I wanted to be a marine biologist and I've never waivered since because I can't think of anything else I'd rather do.
Where do you see yourself five years from now? Hopefull doing any kind of marine biological or oceanographic research...forever.
What part of the research on this trip has interested you the most? Learning how to do everything from deployment , recovery of oceanographic equipment down to the tedious process of preserving and labeling. My main interests have been in the water chemistry and phytoplankton abundance.
What part of the research has interested you the least? To have such an awesome experience leaves no room for me to not be interested in any aspect of this research process.
Did you get sea sick on this trip? No