Previous | Next | Gallery
Leg 1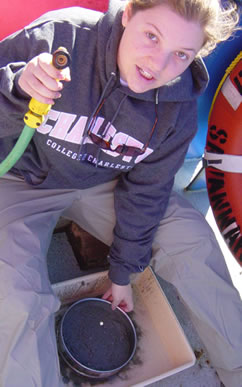 Name: Jennifer Fountain
What is your major? Marine Biology
How did you become interested in this major or field? I wrote a book in fifth grade for class about coral reefs and decided I would become a Marine Biologist.
Where do you see yourself five years from now? Hopefully close to finishing up graduate school (or done – that would be nice)
What part of the research on this trip has interested you the most? It's so hard to decide. I'm interested in everything, but I really like the benthic ecology, plankton samples, and sediments.
What part of the research has interested you the least? Nothing - I really like doing everything.
Did you get sea sick on this trip? No - yeah!