Satellite Tagging of Oceanic Sharks and Billfishes on the Charleston Bump
George Sedberry
SCDNR

For several years, the SCDNR has conducted studies of the Charleston Bump, an unusual bottom area and important fishing bank off the southeastern U.S. coast.   The overall goal of the project is to determine the role of the Charleston Bump and associated oceanographic features as habitat for fishery species.  Scientists have conducted sonar, hydrographic and oceanographic surveys of the Charleston Bump and the Charleston Gyre.  Results have shown that the Charleston Bump is an important habitat for swordfish, and there are high concentrations of swordfish catches on the Charleston Bump.  Sharks are also caught in this fishery.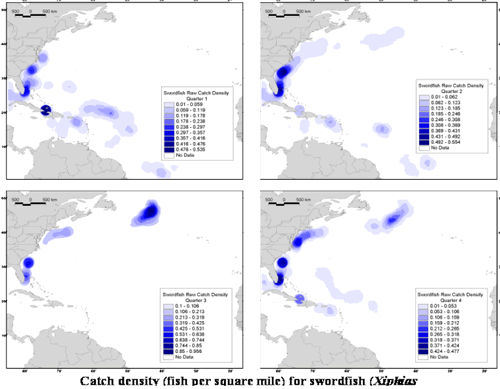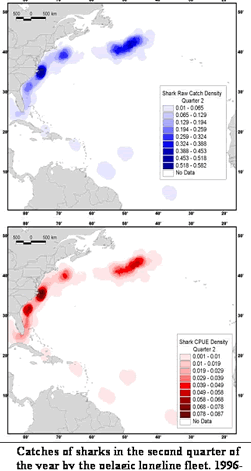 Tagging of swordfish with satellite pop off tags showed that many swordfish were not resident on the Bump, but migrated as much as 1800 miles.  The migratory patterns of sharks that live on the Charleston Bump (click here for additional information) is unknown.  As part of our Charleston Bump research in 2003, we will apply satellite pop-off tags to sharks to track their movements in relation to the Charleston Bump.  We will post the results on this web site, so that interested persons can also track the movements of these fish. 
We propose the following series of hypotheses to be tested in this project:
1.         The geological feature of the Charleston Bump is an important habitat for highly migratory and oceanic species of sharks, such as blue shark (Prionace glauca), oceanic whitetip shark (Carcharhinus longimanus), tiger shark (Galeocerdo cuvieri), scalloped hammerhead (Sphyrna lewini) and shortfin mako (Isurus oxyrinchus).  These migratory species are resident on the Charleston Bump and use it as a feeding ground.  Alternatively, these sharks utilize the Bump as a feeding ground during annual spring migrations.
2,            Oceanic sharks concentrate along thermal fronts associated with the Gulf Stream and affected by the Bump, where food is more abundant.
Our shark tagging in 2003 has the goal of addressing the above hypotheses.  The tagging will provide information on temperature and depth preferences, and movements of migratory oceanic sharks in relation to the Charleston Bump.
Shark Sampling and Tagging
We will tag sharks on the Charleston Bump using archival satellite pop-off tags.  Priority species will be those that have commonly occurred in commercial longline catches and will include the following: 
sandbar shark - Carcharhinus plumbeus
blue shark - Prionace glauca
silky shark - Carcharhinus falciformis
dusky shark - Carcharhinus obscurus
shortfin mako - Isurus oxyrinchus
oceanic whitetip shark- Carcharhinus longimanus
tiger shark - Galeocerdo cuvieri
scalloped hammerhead - Sphyrna lewini
great hammerhead - Sphyrna mokarran
thresher shark - Alopias vulpinus
There are other sharks that have been caught off the southeast coast, and which may be encountered.  These include:
bigeye thresher - Alopias superciliosus
smooth hammerhead - Sphyrna zygaena
blacktip shark - Carcharhinus limbatus
spinner shark - Carcharhinus brevipinna
night shark - Carcharhinus signatus
bignose shark - Carcharhinus altimus
longfin mako - Isurus paucus
sixgill shark - Hexanchus griseus
sand tiger - Odontaspis) taurus
white shark - Carcharodon carcharias
bull shark - Carcharhinus leucas
bigeye sixgill - Hexanchus vitulus
Experimental pelagic longline sampling will be conducted on the Charleston Bump and areas up- and downstream from the Bump, including areas where analysis of logbook data indicate high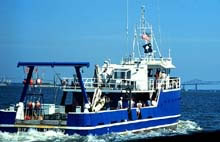 concentrations of sharks (See Map).  Sharks caught on experimental longlines will be tagged with satellite pop-off tags.  Tagging from the R/V Palmetto may be supplemented with tagging from cooperating sportfishing vessels.  Most of these vessels fish in the vicinity of the Charleston Gyre, but some are willing to catch fish for us on the Charleston Bump. 
Tagging will consist of  application of satellite pop-off tags.  Pop-off tags will be used on sharks because they are not dependent on re-capture of the fish, and can provide essential information on short-term (up to one year) movement of individual fish.  These tags will give us information on residence times of sharks tagged in the vicinity of the Charleston Bump, daily vertical movements, and temperature preferences.  Sharks and other priority fishes (billfishes, tunas, dolphin) caught on pelagic longlines will be measured, tagged with traditional shoulder tags and released.  DNA samples for analysis by the FISHTEC project will be taken from these fishes via biopsy spear. 
Continuous sea surface temperature, fluorometry and bottom soundings will be taken at the same time that fish sampling is conducted.  During all sampling efforts from the R/V Palmetto, we will continuously monitor sea surface temperature and fluorometry.  Fluorometer (chlorophyll) measurements will be compared to satellite imagery of sea surface thermal and chlorophyll structure.  During deployment of longlines for shark tagging, CTD casts will be made from the surface to 500 m, similar to that conducted during our previous work on the Charleston Bump.  Additional bottom mapping, surface temperature and fluorometry measurements, and CTD casts will be performed in areas of discontinuities to resolve thermal fronts and other oceanographic features of particular interest for sampling fishes for tagging. 
Project Impacts/Results or Benefits Expected:
With additional study of the importance of the Charleston Bump relative to other fish habitats, fishery management plans can be developed that will, it is hoped, provide sustained yields of highly migratory species, sharks and deep reef fishes from the southeast and other regions where these species are fished.  Study of movements and recruitment patterns of current or potential fishery species is needed to refine or develop fishery management plans.  This is particularly important for species such as sharks, that may have low fishery potential, but which are currently under exploitation. 
Recent data indicate that many of the highly migratory species such as swordfish and oceanic sharks are severely overfished in the western North Atlantic.  Evaluation of the Charleston Bump and its associated oceanographic features in the life history of these species is needed to make wise management decisions.  Such decisions might include drastic measures such as seasonal or permanent area closures of the fishery, or designation of a marine reserve.
Management decisions regarding the Charleston Bump should benefit from increased knowledge of the role of the Charleston Bump in the life history of current and potential fishery species.  The current management plan for swordfish includes a seasonal closure of the Charleston Bump region and a permanent closure of the Straits of Florida, another important swordfishing area and suspected spawning area.  The proposed research will allow government management agencies to determine if the Charleston Bump is an essential fish habitat that should be afforded special protection for swordfish, sharks, wreckfish and other species.