Chris Freeman
Georgia Southern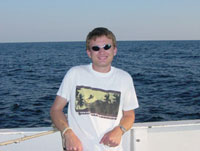 I first became interested in the marine sciences in seventh grade, while snorkeling with my family in Hawaii. I had never experienced such an amazing environment before while growing up in north central Texas, and I was instantly captivated by all the organisms that I was seeing underwater. I followed this interest to marine biology camps in high school and chose Connecticut College for my undergraduate education to be closer to the coast to work with their well-known marine biology oriented faculty. While I was at Connecticut College, I was able to take part in a semester of classes and research at the Marine Biological Laboratory (MBL) in Woods Hole, MA. This was an amazing semester that provided me with experience in conducting scientific research and knowledge in the current state of research in both marine and terrestrial ecosystems around the world. I loved my semester at the MBL so much that I returned the following summer as a visiting scientist conducting research on salt marshes in northern Massachusetts. I was able to use part of this research to conduct an honors thesis with professors at my college as part of my undergraduate education. All of these experiences helped solidify my decision to go strait into a graduate program and continue to further my research experience and education. I wanted to go into a program where I could study the chemical defenses of marine sponges, and I found this position at Georgia Southern University (GSU) working with Danny Gleason. I am currently studying the distribution of chemical defenses in the body of sponges at Gray's Reef National Marine Sanctuary (GRNMS). I am approaching this study by using HPLC to quantify the defensive compounds in different regions of the sponge. I will also be testing the deterrent ability of these chemicals in feeding assays with invertebrate predators on the reef like sea stars and crabs. After I complete my Masters at GSU, I will apply for a Ph.D. position studying the chemical ecology of reef invertebrates. I would ultimately like to work at a university with a balanced mix of teaching and research responsibilities where I can continue my research in this field.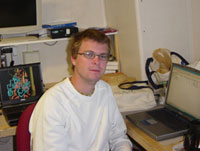 Patrick M. Erwin
University of AL

Undergraduate Education: University of Richmond (Richmond, Va):
-Bachelors Degree in Biology and Sociology (May 2001)

Graduate Education: University of Alabama at Birmingham:
-Master's Degree in Biology (May 2003)
-Thesis Title: Phylogenetic Analysis and Cyanobacterial Symbionts of Verongid Sponges
-Doctoral Degree in Biology (Expected May 2006)
-Dissertation Title: Community Structure, Genetic Identification, and Ecological Importance of Sponge-
Associated Bacteria

My research at Gray's Reef National Marine Sanctuary involves the taxonomic analysis of marine sponge species using DNA sequence data. Sponges are simple animals, and may change their shape based on environmental conditions, thus the same species may appear different in two habitats. The use of genetic data tells us whether sponge samples are truly different species, or just different growth forms. The sponges found at GRNMS represent a unique community consisting of northern Atlantic (e.g. Bermuda) species, southern Caribbean (e.g. Bahamas) species, and some potential unique species.


Lauren Wagner
Georgia Southern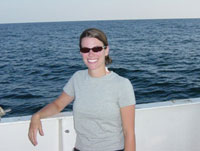 I am from Toledo, Ohio. I have a bachelors degree in zoology from Ohio Wesleyan University and I am working on my masters at Georgia Southern University in biology. Her current research is investigating the dispersal of a temperate coral at 5 separated reefs off the coast of Georgia, including two reefs inside Grays Reef National Marine Sanctuary. I am using genetic assays, histocompatibility assays, and transects of established adult distribution data to determine if Oculina arbuscula disperses locally (within reefs) or long distances (between reefs).


Leslie Bates
Georgia Southern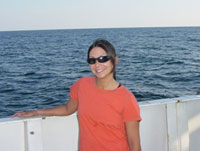 I am a first year Master of Science candidate at Georgia Southern University. I graduated in the fall of 2003 with a B.S. in Biology at Armstrong Atlantic State University in Savannah, GA. I am in the process of completing my research proposal, which will address inducible chemical defenses in temperate reef sponges.
The propose of my visit aboard the Nancy Foster research cruise is to collect several tissue samples of different sponge species to be analyzed for presence of deterrent secondary metabolites. Once the presence of secondary metabolites are confirmed and identified; I will proceed to quantify these compounds to determine any chemical vulnerability within certain species. This preliminary data will allow me to better judge the potential fro the presence of inducible defenses in any of the sponge species collected.


Rob Ruzicka
Georgia Southern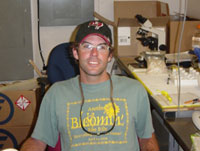 As a Florida native I have always had a strong connection to the water. Although I took a landlocked detour to Hanover College, Indiana for 4 years, more recent stints have kept me close to the seas by working in environmental, marine and fisheries conservation in the Caribbean, Africa, and New Zealand. Currently, I am continuing on this track by pursuing a graduate degree at Georgia Southern University. The majority of my thesis is focused on sponge community structure at Gray's Reef National Marine Sanctuary and nearby hard bottom reefs off the Georgia coast. I am primarily focused on how predator prey interactions and how the possession or absence of chemical and physical defenses within a sponge may influence their distribution on the reef. Specifically on this cruise I will be transplanting sponges from areas of low predation to high predation to see if predators are responsible for restricting the growth of undefended sponges to areas on the reef where predation is low or limited.


Daniel Gleason
Georgia Southern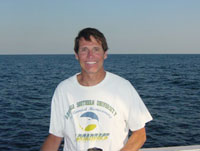 Danny Gleason is Associate Professor and Associate Chair of Biology at Georgia Southern University. He received his B.S. degree in Biology from Furman University in 1980, and M.S. (1984) and PhD (1992) degrees, also in biology, from the University of Houston. He has conducted research in a variety of marine ecosystems, including salt marshes, coral reefs, and temperate hard-bottom reefs. A couple of highlights of his research career include a 2-year stint at the West Indies Laboratory in St. Croix, U.S. Virgin Islands to study mechanisms by which Caribbean corals deal with environmental stress and living underwater for 10 days in the Aquarius Undersea habitat to initiate studies of the effects of ultraviolet radiation on coral bleaching. He has been conducting research in Gray's Reef National Marine Sanctuary since 2001, and currently serves on the advisory counsel for this sanctuary.