Greg McFall
Gray's Reef National Marine Sanctuary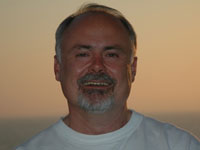 Mr. McFall serves as the Chief Scientist on both legs of research here in Gray's Reef National Marine Sanctuary this summer. Greg offers a lifetime of extensive diving experience, as well as wealth of knowledge about marine ecology. He is no stranger to the sanctuary since he functions as the Research Coordinator for GRNMS, and has done so for the past three years.
Greg's passion for diving is obvious to anyone who is in his company for long. He recalls his first diving experience in a lake, at the age of 13, when he and a friend borrowed some diving gear and dove down to the lake's bottom to get a view of a sunken Volkswagen. Little did Greg know at the time, but this was a first of more than 4,000 dives he would make in his life.
Believe it or not, this diving fanatic did not grow up around the ocean, like most other scientists working on this ship. In fact, Mr. McFall only visited the coast once before the age of 18. Instead, he attributes his experience in the United States Navy as sparking his interest in the oceans. Greg spent five years as a US sailor and had the opportunity to visit 19 countries during his service. During his service, he had the opportunity to learn more about scuba diving when he joined the Naval Dive School. This rigorous program was one of the hardest things that he had ever done; it tested Mr. McFall both mentally and physically.
Greg's diving experience in the Navy opened many doors for him. After graduating from the dive school, he soon joined the Navy Underwater Photo Team. Here, he worked as one of eight underwater cinematographers along the east coast for the research and development needs of the military. After leaving the military, Mr. McFall tried several different career options like starting college and diving for commercial projects, but nothing seemed as a good fit until he saw an add for a position in the Bahamas with the Atlantic Undersea Test and Evaluation Center. Here, he worked as a contractor with the US Naval Warfare Testing group for a few years. Finally, his life experience paved the way and provided the motivation to return to West Virginia University to pursue his bachelors degree in Biology, with a minor in Chemistry. Here, he made the Dean's List and graduated near the top of his class. After he graduated, he went straight into the Masters of Marine Biology program at the University of North Carolina - Wilmington.
With all of Greg's life experience in diving and understanding of marine biology, he was very marketable in 1992 when he graduated. He was immediately hired as the Assistant Science Director for the National Undersea Research Center where he held mostly administrative duties such as overseeing the peer review process for proposal requests. Like a fish out of water, diving was in Greg's blood and he longed for it. After two years at the NURC, he left to work with the UNCW as a Research Associate to assist with pharmaceutical research that enabled him to dive throughout the southeast. This job provided one serendipitous opportunity, in particular, that changed the course of Greg's career. During one research operation in Gray's Reef National Marine Sanctuary, he met with Reed Bohne, the manager of GRNMS. And the rest is history...
Mr. McFall is one of the few to have the best of both worlds; he has the opportunity to travel, dive, conduct research, write papers, and participate in many different kinds of research. "Everything I've done up to this point in my life has been practice for this job," Greg proclaims. Those who have had the opportunity to meet Greg know that he has definitely found his niche. In fact, his connection to the sanctuary is so strong that his son was disappointed when to learn that this father works in Gray's Reef, not "Greg's Reef".
For students who are interested in marine science, as well as diving, he offers the following advice:
* Learn science and math well. Without a solid foundation in these disciplines, you will have a difficult time. * If you are not ready for college, join the Navy. There are many different ways to get experience that you can apply to your career goals. * Be persistent and don't give up. It may take time to find your dream job. * Volunteer or do anything to get your face and name out there. The marine science field is still small enough that word-of-mouth is a good way to get recognized.
Athan Barkoukis
SC Department of Natural Resources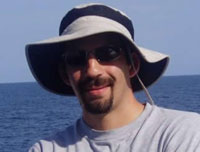 Athan is a graduate student at the College of Charleston pursuing a master's degree in Environmental Studies with focus in marine science. His academic background is rooted in Biological Science and he possesses a bachelor's degree from Colgate University. For Leg 2 of this exploration, he joins fellow scientist, Sarah Goldman, to assist with the collection of information on the fisheries in Gray's Reef.
Mr. Barkoukis became interested in the oceans at an early age. It all started with family vacations and annual fishing trips to the Outer Banks, North Carolina. These activities inspired him to pursue his dream of working in the marine science field some day. Since that time Athan has sought out several experiences to enhance his understanding of marine science. He became a certified scuba diver, as well as worked in Antarctica where he used biological assessments to reconstruct the history of the Larsen Ice Shelf. Before enrolling at the College of Charleston, he worked as an intern at Mote Marine Laboratory constructing artificial reefs in Gulf of Mexico for a red snapper stock enhancement. Obviously, Athan brings a wealth of knowledge and experience to our team of scientists aboard the Nancy Foster.
When Athan is not in a classroom or on conducting research on ships, he works with Dr. Sedberry in developing his master's thesis. He hopes that his graduate efforts, coupled with experience like this to Gray's Reef, will provide him with a holistic understanding of marine science by blending research and policy. Athan looks forward to finding the perfect career that will synthesize his interests in marine science and by the look on his face this week; he is well on his way to finding his niche.
Athan gives the following advice to students who are involved in (or considering applying to) a marine science program: ask as many questions as you can; do not be blinded by a one-direction approach in research interests because you may pass up many other great opportunities along the way.


Dave Grenda
REEF (Reef Environmental Education Foundation)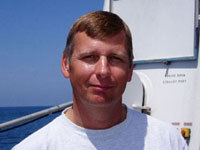 Unlike the other members of the science crew, Dave is a volunteer - a recreational diver with an interest in marine science. He's a member in several organizations including an Advanced Assessment Team member of Reef Environmental Education Foundation (REEF) in Key Largo FL, a Divemaster and Scientific Diver at the Florida Aquarium in Tampa FL, and an Animal Handler at Mote Marine Laboratory Dolphin and Whale Hospital in Sarasota FL. His formal educational background is business (a Bachelor's in Aeronautical Administration and an MBA). He spent his first 20 years after college in the Air Force serving as B-52 navigator/bombardier, headquarters staff officer, weapons test director, and finally as weapon safety analyst. Retiring from the military in '97, he moved to Florida and pursued his passion for diving and the ocean. He immediately sought out volunteering options that aligned with his desires.
One organization that quickly caught his attention was REEF. As a member of REEF, he conducts fish population surveys during his recreational diving. REEF is a grass-roots non-profit organization made up of volunteer divers. Divers note on an underwater slate what fish species they see during their dive. After surfacing, the diver submits that data to REEF. REEF then enters that information into a central database. The data allows scientists and decision makers to monitor the fish population in the oceans around the US. Any recreational diver can become a member of REEF after some quick initial training. When a REEF volunteer achieves expert status, he can join the Advance Assessment Team and be used for special research efforts like the Nancy Foster. "I've been lucky to participate in some cutting edge research with REEF over the past couple of years."
In addition to doing fish counts, Dave also dives at the Florida Aquarium. He started volunteering at the Aquarium soon after arriving in Florida. Through the years he's expanded his role there. Dave performs the dive show in the shark exhibit and in the coral reef exhibit. He helps maintain the exhibits and assists Aquarium's biologists in collecting animals from the waters of Florida. During that time, he became a Scientific Diver under the auspices of the American Association of Underwater Sciences (which the Florida Aquarium is a member).
When not diving, he often works with veterinarians at the Dolphin and Whale Hospital at Mote Marine Laboratory. They rescue stranded dolphins/whales and try to rehabilitate them for return to the wild. "It's an amazing feeling to support a dolphin calf in your arms as you nurse it back to health." Some of the more unusual animals he's worked with are dwarf sperm whales, pygmy sperm whales, and a rare beaked whale. It's a very "hands-on" experience - helping to feed, medicate, and take data.
"One great aspect of volunteering is that there are so many opportunities to do things that not only help but also provide a satisfying feeling of accomplishment." When asked what was the downside, he replied, "There's not enough time in a day to take advantage of all volunteering opportunities I'm interested in." Sometimes he finds it hard to balance it all, which is why he no longer volunteers at Lowry Park Zoo in Tampa taking care of injured manatees.
What's on the horizon for Dave? More diving. "You never know what the next dive might bring and I'm eager to put on a tank and see what nature throws my way." Some of his memorable sights underwater include a trio of humpback whales gliding by in Hawaii, giant mantas doing summersaults in Yap, spending a whole dive side-by-side with a whale shark in the Gulf, eagle rays cruising by in the Keys, colorful lionfish displaying their venomous fins in Palau, and sea lion pups tugging at his fin tips in Mexico.
What advice would he give to students? "Sometimes school work can be tough to do when you don't see its relevance to your future. But then you discover what intrigues you and you suddenly see how those classes enhance your pursuits. It's really true - the more you learn in class, the more doors open up to you down the line."


Christopher Jeffrey, Ph.D.
National Centers for Coastal Ocean Science

Chris Jeffrey is coral reef ecologist with the NOAA/NCCOS/CCMA/Biogeography Team (NOAA BT), which is conducting a baseline characterization of fishes and benthic habitats in the Gray's Reef National Marine Sanctuary. Each day, Chris is one of a two-member dive team that visits 4-5 randomly chosen sites within the sanctuary. The dive sites are randomly chosen from four major bottom types. At each site, Chris uses a 1-m2 quadrant to quantify marine debris (e.g., fishing gear and trash), sponges, tunicates, and other encrusting organisms within a 24*4 m transect along the bottom. This information will provide a good baseline characterization of the sanctuary and improve future monitoring and management activities.
Chris grew up in a small fishing village in the beautiful, tropical, 120-square-mile island in the Windward Islands known as Grenada. The Windward Islands are part of the Lesser Antilles in the southeastern Caribbean. Grenada is situated at 12 o N, 62 o W and is the most southern of the Lesser Antilles. After graduating high school in 1981, Chris attended a local two year college where he studied biology, geography, and mathematics. After two years of college, Chris taught high school biology and geography for five years at his high school Alma Mater, before attending the University of the Virgin Islands where he received a Bachelor of Science degree in Marine Biology. Chris later received a Master of Science degree in Conservation Biology and Sustainable Development and a Ph.D. in Ecology from the University of Georgia (UGA, go Bulldogs). In 1999, he received a Knauss Marine Policy Fellowship to conduct research on fish and benthic habitats in coral reef ecosystems with NOAA BT. He remains with the NOAA BT today. To date, Chris has been involved in several projects designed to characterize Caribbean coral reef ecosystems and has done hundreds of dives in the Florida Keys, Puerto Rico, and the U.S. Virgin Islands.
Chris's primary research interest is in understanding the spatial and temporal aspects of the interactions between benthic habitats, reef fish communities, and fisheries in coral reef ecosystems. His goal is to aid in the development of policies that will manage or regulate the use of those coral ecosystems successfully. A true understanding of how to manage coral reef ecosystems successfully requires a multidisciplinary approach. Chris recommends that undergraduates interested in any marine science be grounded in the natural sciences, but they should also take courses in political science, history, and socioeconomics. Additionally, a strong work ethic, good physical and mental health, and fitness go a long way in making a good marine biologist: you can't dive to study the ocean if you're sick.


Sarah Goldman
SC Department of Natural Resources

Sarah Goldman has spent the past year working as a research assistant for the South Carolina Department of Natural Resources, Marine Resources Division in Charleston. Her duties during this cruise include assisting with fish trap deployment/retrieval, work up of fish, and diving as needed. She is no stranger to Gray's Reef National Marine Sanctuary. She was a part of the Reef Environmental Education Foundation (REEF) Advanced Assessment Team in 2004, which conducted fish species, abundance, and size surveys within the Sanctuary. She will participate in these surveys again next month.
Sarah grew up in Columbus, Ohio and found it difficult to study marine biology in the cornfields of the Midwest. She attended Bowling Green State University and majored in Biology. Her junior year of college she participated in an exchange program, which took her to the College of Charleston in South Carolina. There she took marine-related courses and interned at the South Carolina Aquarium in the Education Department. During college she got her dive certification and started diving in the incredibly scenic quarries of northwest Ohio. She would go on to become a PADI divemaster and dive with the National Park Service and the Department of Natural Resources. For the past 5 years she has spent a week a year working as a diver on a sustainable live rock aquaculture farm in the Florida Keys.
After college Sarah took a job at Biscayne National Park in south Florida where she monitored sea turtle nesting on several islands. From there, Sarah moved to Key Largo and interned with REEF, where she discovered the visual assessment of reef fishes. These experiences led to a research assistant position with the University of Hawaii at Manoa where she worked with a Ph.D. student to study the movement patterns of manta rays by tracking them along the west coast of the Big Island.
After a year of work experience, Sarah realized she needed to take more classes to get into a graduate program. She moved back to Ohio, completed the necessary course work, and worked as an integrated science substitute teacher. She was accepted to the College of Charleston Master of Environmental Studies Program, but delayed entry to take a job with the South Carolina Department of Natural Resources. With the SCDNR she worked for the Marine Resources Monitoring Assessment and Prediction (MARMAP) program aboard an offshore research vessel and collected fish to be used in age, growth, and reproduction studies. Currently, she is a graduate student in the MARMAP lab working on a thesis involving stomach content analysis of several deep water reef fish species. She is also an active volunteer diver at the South Carolina Aquarium where she dives in the 350,000-gallon Great Ocean Tank.
Advice to students wanting to study marine science: Do internships! Volunteer! Education is important, but practical experience is priceless. Imagine a marine-related job that you think you would enjoy and figure out what you need to get there (Master's Degree, Ph.D., captain's license, diving experience, etc.) There ARE jobs in marine science; you just have to get as much experience as possible and make connections.


Kate Doyle
University of Georgia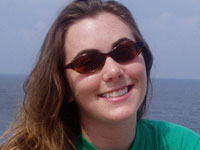 Kate Doyle is a student at the University of Georgia in Athens, GA. She is working towards her master's degree in Marine Science. Specifically, she is studying hydroacoustics with Dr. Daniela Di Iorio. Together, they examine Gray's Reef National Marine Sanctuary acoustically with a device called an echosounder over a 24-hour period. Daniela and Kate hope to get a glimpse of both the diel cycle and the spatial distribution of the pelagic inhabitants of Gray's Reef. In other words, they want to address how the fish at Gray's Reef move in the water column throughout a day and try to assess where are all of these fish are located within the area of the reef.
Ms. Doyle grew up going to the New Jersey shore every weekend during the summers, an experience that fostered her current love of the ocean. However, it wasn't until she was about 12 years old, that Kate knew marine science was the life for her. Kate remembers watching a Discovery Channel special on blue whales. "I was fascinated by the whole show. I remember frantically scrambling for a pen and paper as the program ended so I could write down the names of the scientists and colleges involved from the credits," Kate recalls.
Throughout high school she absorbed as much as she could about cetaceans and the ocean. In college, at the University of Tampa (Tampa, FL) Kate majored in Marine Science and Biology and also earned a minor in Chemistry. The program enabled her to get some great hands-on experience in the Marine Science field and also work in the field year-round due to the mild weather (a huge plus). Her summers during college were spent in New Jersey working as a naturalist on a whale watching/sightseeing boat.
Kate began her program at UGA in the fall of 2003. She is now finishing the necessary course work for her degree and is able to focus more of her time on her data analysis and research. Once she earns her masters degree, she is done with school. Ideally, she'd love to find a job that allows her to remain very hands-on and that offers her regular opportunities to work in the field. She sees the National Oceanic and Atmospheric Administration (NOAA), the National Science Foundation (NSF), and the Department of Natural Resources (DNR) as three organizations that hold a ton of such opportunities for her.
What Kate enjoys most about the marine sciences is the number of different disciplines that are included under the marine science umbrella. "Biology, Chemistry, Physics - it's all applicable to the ocean. It's awesome", Kate exclaims. The more she learns about the sea the more she wants to know. Just as she experienced last year, Kate has been inspired by this cruise on the NOAA ship Nancy Foster. It is such a unique opportunity for all of these scientists from different backgrounds, each conducting their own research out on Gray's Reef, to make this trip together and collaborate.
Kate appreciates all of the professionals in the marine science fields that encouraged her to continue following her passion in marine science. While students will definitely find people who are supportive, she warns students that there are people within the field who will discourage these budding marine scientists from following their dreams. Kate advises, "Take heart and do not get frustrated. If you are dedicated, you will succeed. And if you love what you do, then that is all the reward you need."


Matt Kendall
National Centers for Coastal Ocean Science

Matt Kendall is a marine biologist with the NOAA/NCCOS/CCMA/Biogeography Team. He is the lead investigator for the team at Gray's Reef, having worked on a variety of GRNMS projects over the last three years. This spring aboard the Foster, the team is conducting the second of three scheduled missions to characterize the fish community and their associated bottom types within the sanctuary. Each day, the team splits into two diver pairs and visits 4 or 5 sites within the sanctuary. The dive sites are randomly chosen within the four main bottom types that occur in the area; flat sand, rippled sand, sparsely colonized live bottom, and of course the densely colonized ledges for which the sanctuary is known. At each site, one diver identifies and counts all the fish encountered along a 25*4 m transect and the other quantifies the marine debris, sponges, tunicates, and other organisms encrusting the bottom. This information will be used to obtain a good baseline charactization of the sanctuary and improve future monitoring and management activities.
Matt's background is in marine science, he grew up in Florida, frequently exploring the mangroves and bays of the Charlotte Harbor area around his home. This early interest turned into a BS from the University of South Carolina in 1994, a place he encourages anyone to attend that is interested in obtaining a solid foundation in oceanography and marine biology. Matt returned to Florida to gain some field experience prior to working on a graduate degree. He spent a year and a half tracking manatees using satellite and radio telemetry and gained an appreciation of the long field hours and often less than comfortable conditions that biologists often endure to collect the right kinds of data. Matt next earned a Masters degree at North Carolina State University where he studied the reproductive ecology of blue crabs in Chesapeake Bay. Investigating the reproduction of a commercially important species and how a fishery can affect the populations ability to replace itself led Matt to an interest in marine policy and how science interacts with management of natural resources. As a result of that interest Matt pursued the Knauss Marine Policy Fellowship through his North Carolina Sea Grant office and landed a year long placement at NOAA's Biogeography Team in 1998. Matt's interest in exploring the relationships between the distribution of fish and their habitats and how such knowledge can be applied to improve natural resource management was a good fit with the Biogeography Team and he has been there ever since.
For those interested in pursuing a career in marine biology Matt suggests taking lots of courses in science and math, but reminds people to also gain exposure to a variety of other key topics such as history, philosophy, and economics. "Go to a good undergraduate program and focus on the foundations of biology such as evolution and ecology. Understanding the basic principles of those subjects will carry over into everything you do as a scientist. Don't forget about those humanities though, they ground your science into the real world and will help you communicate your science to the widest possible audience." Matt also recommends not rushing through to get all your degrees. (Yes, he says you'll need more than a bachelors to go far in this field.) He suggests taking time to do field work and other jobs where you can learn about "real world" applications of the science that you conduct throughout your career.


Sarah Fangman
Channel Islands National Marine Sanctuary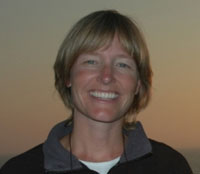 Sarah Fangman joins the R/V Nancy Foster from the Channel Islands National Marine Sanctuary. She is a seasoned diver, as well as marine science researcher. Sarah is a NOAA and PADI Divemaster, NITROX certified and has conducted over 1000 dives using SCUBA for research activities.

Sarah finds it surprising how many people say to her, "I always wanted to be a marine biologist!" when she describe to them what she does. The next thing they invariably say is "You are so lucky to have such a wonderful job!" Sarah agrees; she is completely fascinated by the ocean. While seventy percent of the earth is covered by oceans, some people never have the opportunity to see the ocean, and of those that do, most only see the surface. Sarah feels very fortunate to be one of the small numbers of people that actually see the wonders far below the waves. <>As a young girl growing up in Minnesota, Ms. Fangman would have never imagined becoming a marine biologist. The ocean was such a remote and mysterious place (and she got seasick while boating on Midwestern lakes!). But she was captivated when her family escaped to the Caribbean one winter – and she spent the entire week with a mask strapped to her face and her head underwater. She was hooked.
She decided to make scientific research her life's focus and went on to receive her B.A. in Environmental Studies and Biology from Middlebury College in 1990. After college, Sarah began her career working in marine education – at a Caribbean field station teaching college students about dolphins, sea turtles and coral reefs. During this time, she was diving daily to depths of up to two hundred feet. While she loved introducing young people to the wonders of the marine environment, she wanted to do more to help preserve marine life. So Sarah left the workforce and went back to school.
Sarah enrolled in the University of Washington's Master of Marine Affairs program and graduated in 1996. At the University, she studied marine resource management, economics, law and other subjects that equipped her with the skills necessary to help protect the marine life that she so cherishes. During graduate school, she began working for NOAA as a research assistant, and was hired after finishing at the University of Washington.
Sarah has had the opportunity to dive to the deep depths of our oceans, as well as be a part of some incredible research expeditions. Check out some of her experiences:
· Pilot of the DeepWorker submersible (dives to depths of 2000 feet). Piloted and was the scientific observer (it's a one person sub!) on over a dozen research dives using the DeepWorker
· Scientific observer in the Delta submersible (dives to depths of 1200')
· Scientific observer in the Alvin submersible (dives to depths of 14,700 feet – the deepest she's been in the ocean was aboard the Alvin, when we dove to 9,500 feet in the Gulf of Mexico)
· Researcher on a ten day saturation mission in the Aquarius habitat (the world's only underwater laboratory; Aquarius missions involve living and working for ten days at depth – and spending up to eight hours each day in the water conducting research)
· Participant in over forty research cruises and was chief scientist on more than a dozen of those cruises (using a variety of research tools including submersibles, Remotely Operated Vehicles or ROVs, SCUBA, sidescan sonar, nets, etc.)
· In addition to conducting research, Sarah is the lead on the design and construction of a new research vessel to be used in the Channel Islands National Marine Sanctuary. This 62' power catamaran is equipped with state-of-the-art technologies to support a wide range of research activities.
What makes Sarah unique as a marine researcher is the breadth of her experiences. While she is certainly not the first to do any of the things listed above, few people have done all of these.
In her current job as Research Coordinator of NOAA's Channel Islands National Marine Sanctuary, she still has opportunities to help teach young people about the marine world – and hopefully bring some of those students into the field of marine biology! She has participated in local, national and international educational broadcasts in an effort to reach out to children and inspire them to care about our oceans. Next month, Sarah will be a guest researcher on Robert Ballard's JASON expedition and will speak to over a million students worldwide, live from a kelp forest in the Channel Islands National Marine Sanctuary!
Sarah encourages students who do not excel in science and math to not give up on their dream to work in marine studies. If you have an interest in making the ocean your career's focus, find ways to apply your talents in marine studies. There are many different disciplines that marine studies consists of, such as policy (as Ms. Fangman studied at UW), navigation, technology, ship operations, photography, diving, education, etc. Where there is a will, there is a way.


Daniela DiIorio
University of Georgia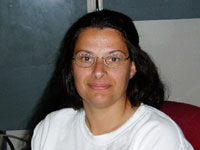 Dr. Di Iorio's high school physics teacher first inspired her to pursue physics as a career. In fact, she recalls wanting to become a physics teacher, like her mentor. But life would take Daniela down a different path. She remembers first hearing her calling to be a marine scientist when she was working as an intern during her undergraduate program. The University of Victoria offers a cooperative program where students alternate between coursework and internships every four months; this is where Daniela was first exposed to acoustics research. This research interest is a perfect synthesis of her interests in physics and marine studies.
While being a wife and a mother of two sons, Daniela juggles a variety of responsibilities at the University of Georgia. She teaches both graduate and undergraduate core oceanography classes, as well as other graduate physical oceanography classes during the academic year. Dr. Di Iorio enjoys teaching most of all; it forces her to stay current with advancements in oceanography, as well as encourage scientists (especially females) to pursue physical oceanography. In addition to teaching, Daniela oversees three graduate students (one, Kate Doyle is joining her on this cruise) and provides them with advice and direction on new ways to collect and process data for their theses research. Dr. Di Iorio's personal research interest involves using acoustic methods to measure turbulence, heat fluctuation and flow in ocean environments including a hydrothermal vent in the Juan de Fuca Ridge. To fund these research projects, Daniela is constantly writing papers and drafting proposals, which the latter is her least favorite part of the job. Daniela loves her position at the University of Georgia and hopes she has the opportunity to enjoy many more years as faculty within the Marine Science department.
Dr. Di Iorio is also involved with the public school system in her community. She serves as a tutor to the Ocean Science Bowl team at the Oconee High School in Athens, Georgia. She assists the teacher, as well as the students in the teaching and learning of the physical and chemical aspects of oceanography. She is pleased to report that this team won the regional Ocean Science Bowl this year and went on to compete in the National Ocean Science Bowl competition in Charleston, S.C.
To students who are interested in pursuing a career in physical oceanography, she gives the following advice:
Find work experience at the undergraduate level, if not before. You can do this by putting your resume together and send it out to different research scientists. Many scientists have funding for student researchers and are waiting for students to contact them. Make the first move, don't wait. Identifying your career interests early will help focus your academic experience.


Elizabeth Rogers
Project Oceanica / Center for Ocean Science Education Excellence-SE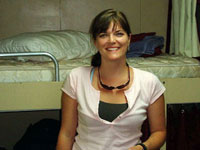 Ms. Rogers is the Curriculum Specialist for the Center for Ocean Sciences Education Excellence in the Southeast (COSEE-SE), funded by the National Science Foundation (NSF). Elizabeth also works with Project Oceanica, College of Charleston, as a marine science educator to assist in oceanographic research cruises. In addition, she is a student at the Graduate School at the College of Charleston in Charleston, S.C. working towards her master's degree in teaching.
Science education is a path that Elizabeth enjoys. After receiving a bachelor degree in Geology in 1997, she worked for the Washington State Parks and Recreation Commission. There, Elizabeth had the opportunity to explore the rich geologic history of the western United States, as well train others in communicating science to the general public. Wanting to return closer to family and friends, she served as Program Coordinator for the Lowcountry Hall of Science and Mathematics at the College of Charleston. There, Elizabeth had the opportunity to work with teachers and scientists as she developed and managed programs designed for improving science teaching and learning at the local level. While working full time, Ms. Rogers obtained her master's degree in science and math education, which seemed like a natural fit with her professional experience.
After graduating, Elizabeth left Charleston and headed for the Washington D.C. area. In Alexandria, VA, she served as Curriculum Developer for the American Geological Institute and worked as part of a small writing team in developing an NSF funded Earth System Science textbook for the middle grades. This experience provided Elizabeth with many opportunities to enrich her science understanding, as well as learn novel and research-based strategies for teaching science. Being drawn back to the warm weather and the slower pace, she moved back to Charleston, S.C. in 2003. Elizabeth decided to return to school to pursue a teaching degree. She will finish the MAT degree in December 2005.
While hearing her call to teach, the timing of her first shipboard experience in 2005 to GRNMS aboard the R/V Nancy Foster could not have been more precise. Having the opportunity to explore Gray's Reef, along side of scientists and other graduate students, is a learning experience that few classrooms can offer. The excitement associated with pulling fish traps aboard, watching video footage, or listening to the scientists recall their experiences is something that engages the learner as well as the veteran scientist, alike. She looks forward to transferring her experiences here in the sanctuary in the classroom this fall.



Randy Clark
National Centers for Coastal Ocean Science



Jenny Waddell
National Centers for Coastal Ocean Science



Kevin Grant
Sea Grant Fellow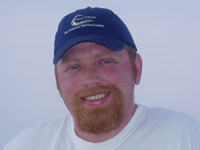 Even though he was raised in Wisconsin, Kevin Grant has always had a passion for the sea. He had his first experience as a marine biologist at the age of 21, as a Fisheries Observer in Alaska. This experience helped to solidify his desire to work in the marine environment, and taught him the attention to detail needed for data collection. Kevin received a B.S. in Biology/Environmental Science from the University of Wisconsin-Eau Claire in 1996. He knew that he wanted to start a career in the marine sciences, but felt a desire to broaden his horizons first. He did just that in the Peace Corps.

As a Peace Corps volunteer teaching High School science in the Solomon Islands, Kevin always emphasized the importance of conservation, and tried to share his enthusiasm for the sea with his students. He succeeded in taking eight students on a five-day field trip to the Arnavon Marine Conservation Area (AMCA); one of the only official Marine Protected Areas in the Solomon Islands. Mornings were spent with AMCA Conservation Officers, who gave lessons on the many different projects that were being done in the AMCA. They spent the afternoons going out to participate in some of the field work. Kevin and his students saw a nest of Hawksbill turtles hatch and the baby turtles' mad dash to the sea. They went snorkeling on a coral reef where dozens upon dozens of huge fish swimming lazily about. Witnessing all of these events, first hand, helped his students to better understand the benefits of conservation. It also piqued Kevin's interest in Marine Protected Areas.

After returning from the Peace Corps, Kevin got a job as a Fisheries Biologist with the Florida Fish and Wildlife Conservation Commission. His daily duties centered on fisheries assessment. That means he got to go out on a boat every day and use a variety of nets to catch fish. He and his co-workers would then identify every fish, and take measurements such as length and weight. The fish would then be thrown back, and Kevin would go to another location and start again. Being able to go out on a boat every day was a fantastic job! Many people said "You're so lucky to have a job like that." Kevin agreed, but wanted to know more about how the data he was gathering was being used to make fisheries policy. He was also still interested in Marine Protected Areas. So after two and a half years as a Fisheries Biologist, Kevin went back to school.

Kevin earned a Master of Marine Affairs degree from the University of Washington's School of Marine Affairs. There he took classes in marine policy, U.S. ocean and coastal law, economics for marine affairs, marine protected area science and management, and marine resource management among others. Kevin also became interested in the socioeconomic aspects of marine affairs, and realized that marine resource management is not only about the resources in the sea, but about the people that use those resources as well.

Kevin Grant is currently a John A. Knauss Marine Policy Fellow, and is working for the National Marine Sanctuary Program at their headquarters in Silver Spring, Maryland. He works on a variety of policy issues, including fishing in sanctuaries issues, but his job still allows him to get to sea and participate in marine biology research.

Kevin encourages everyone who is interested in the marine sciences to pursue a career in that field. He almost changed his mind when he was young, because he wasn't very good in math. He stuck it out though, and wouldn't change anything. His career choice has been extremely rewarding for him.