The January/February 2003 cruise to the Charleston Gyre is the fourth
leg of a mission titled "Exploration of the Charleston Gyre and its contribution to the production on the southeast United States continental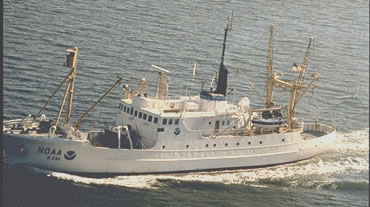 shelf". Researchers from the NOAA Center for Coastal Fisheries and Habitat Research (Beaufort, NC) and Oceanica's Rachel McEvers sailed aboard
the NOAA Ship OREGON II for 13 days at sea. On this particular cruise we examined the fate of ichthyoplankton (very small fish larvae) and zooplankton (very small floating animals) in the region of the meso-scale eddy formation known as the Charleston Gyre. The vessel pictured above is the NOAA Ship Oregon II, onboard which the mission was conducted.
Preliminary work indicates the swirling motion of the eddies that form off the Gulf Stream, brings nutrient-rich water from deep and off the shelf edge to near surface and results in enhanced primary production. Therefore, this may be an ideal place for juvenile fishes to feed as they grow. The reason for this mission is to assess production of the Charleston Gyre, its contribution to production of the entire southeastern Atlantic Bight, and its potential as pelagic spawning and nursery habitat for fishes.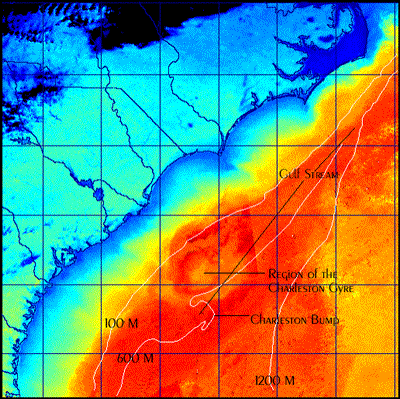 Right now we are making CTD casts every 5 miles. The CTD tells us the temperature, salinity and depth of the water. By measuring the temperature and salinity, we are able to determine when we are within the Charleston Gyre. Once the center of the eddy (gyre) is reached, drifters will be released. Five are satellite-tracked and one is GPS-tracked from the ship. The GPS-tracked drifter will be followed. Three MOCNESS (plankton net) tows will be made in the vicinity of the drifter each night and one will be made during the day. CTD casts will be made throughout the cruise to make sure we are still in the eddy. Once the mission is over, the GPS-tracked drifter will be retrieved. The satellite-tracked drifters will continue to send information via satellite even after the cruise is completed.