Sunday, May 15, 2005
Greetings from Gray's Reef!
The day's operations have started without a hitch…more fish traps and dives are deployed.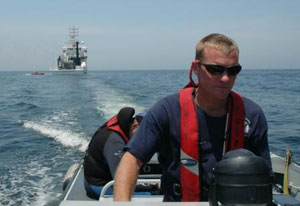 This morning, around 0800 hours, three dive crews board the MonArk and other small motor boats and are taken by the ship's crew to their stations for more dives. (picture to right) After the boats are well away from the ship, the captain motors over to our next survey location for three chevron traps to be deployed. This time, Kevin is assisting Athan and Sarah to help measure the fish. Athan anticipates a much higher abundance in fish retrieved from the traps, as well as increase in diversity because we are surveying hard bottom (high relief) habitat for much of the day.
The differences in fish abundance and diversity in the hard bottom area as compared to the sandy bottom are quite remarkable. While the hard bottom area is extensive, it is not continuous throughout the sanctuary. The rock comprising the hard bottom (high relief) areas, on which the reef grows, is made of mostly limestone that was deposited two to five million years ago. These rocky outcrops rise up to three meters (nine feet) from the sandy ocean floor. The outcroppings, in many places, are separated by sandy, flat-bottomed troughs which fish like the scup tend to frequent.
The high relief areas of GRNMS provide a variety of habitats for many of the fish and other animals in ocean. Additionally, many of the animals prefer this environment because they are more protected in a hard bottom area than in the sandy bottom areas. One of Gray's Reef scientists claimed that the plant and animal diversity found in Gray's Reef is comparable to the diversity found in tropical rainforests. I understand why these hard bottom areas in GRNMS are popular fishing spots among local fishermen.
GRNMS is home to many different species of fish, both pelagic (found in the open ocean) and benthic (found along the ocean floor). These include black sea bass, snapper, grouper, and mackerel. This great biodiversity is, in part, the reason why the U.S. government identified Gray's Reef as one of the most "nationally significant" marine areas in 1981. Since that time, a management plan was developed to pave the way for additional research opportunities, like this one. The National Oceanic and Atmospheric Administration, as well as other agencies and organizations throughout the United States, hope that with increased research experiences, the scientific community, anglers, and the general public may grow to better understand the dynamics within Grays Reef, and therefore, make sound decisions about the sanctuary.
We have been blessed with another wonderful day of research in Gray's Reef.
Please check back tomorrow to continue following our adventures in the sanctuary.

Elizabeth

Gray's Reef National Marine Sanctuary:
Daily Connections to Scientific Inquiry & Nature of Science
Start Locally:
While the ocean is vast and able to absorb many substances, we can no longer treat it like a trash can where we dump our waste. The nearest beach, barrier island, or marine sanctuary may be hundreds or thousands of miles from us; however, it is important that we protect them by:
· Reduce our impact on the environment. Minimizing the amount of waste we generate at home, school, work, etc. Avoid purchasing items containing excessive packaging and support the companies that have good environmental records. Reuse and recycle household items and purchase recyclable items from the store.
· Get politically active. Before becoming law, many ocean and coastal issues require approval of a proposal by a majority of voters. National and international issues still require a "majority rule", so get your vote out there. Conduct research. Many political issues involve the ocean yet do not explicitly address it such as excess carbon dioxide in the atmosphere. It is possible that we will be called upon to vote whether the United States should spend large amounts of government funds to add iron in our oceans to reduce the carbon dioxide.
Learn more about the ocean. Studying our world as a dynamic system, comprised of the hydrosphere, biosphere, atmosphere, and geosphere, helps scientists understand how one sphere interacts with and affects the others. Our surveys to GRNMS are perfect examples of scientists researching the interaction among the hydrosphere, geosphere, and biosphere.