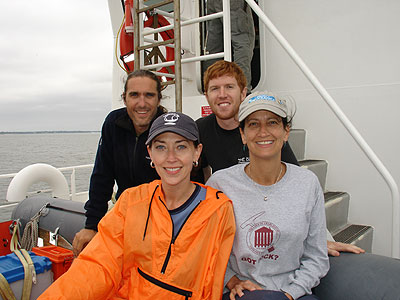 Leslie R. Sautter, Ph.D.


Oceanica Director
Associate Professor
Department of Geology and Environmental Geosciences,
College of Charleston
Leslie Sautter received her Ph.D. in geological sciences at the University of South Carolina in 1990. Her research focuses on the paleoecology and stable isotopic composition of planktonic foraminifera. She became a geology department faculty member at the College of Charleston, SC in 1992, and teaches classes in marine and coastal geology and general marine science to undergraduates, graduate students and K-12 teachers. Her activities devoted to promoting undergraduate research, and her involvement with developing new methods of teaching marine science to college students and teachers earned her the 2002 National Marine Education Award. With NOAA NOS funding, Sautter recently established Project Oceanica at the College of Charleston, which serves to bring scientific results to a broad audience of users through development of research-oriented education products and resources. Dr. Sautter participated in the Islands in the Stream 2001 expedition and will serve again as a shipboard geologist and science education liaison for Islands in the Stream 2002 expedition.
Rachel McEvers
Program Manager
Project Oceanica




Rachel McEvers graduated in 1992 with a B.S. in Speech Communication from Southern Illinois University Carbondale. She worked as a senior program coordinator and team supervisor for five years at a workers' compensation administrator in St. Louis, Missouri. After getting a taste of corporate America, she decided to follow her dream of becoming a marine biologist. She moved to Charleston, South Carolina to attend the College of Charleston and received her B.S. in Marine Biology in 2001, graduating Magna Cum Laude.








Trent Tinker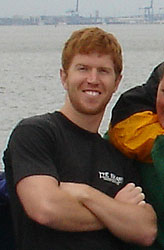 Educational Technology Specialist
Project Oceanica


Trent Tinker is originally from Myrtle Beach, SC. He graduated from College of Charleston with a major in Computer Science and a minor in Geology. He has been the Education Technology Specialist (webmaster) for Project Oceanica since May 2004. In addition to working for Project Oceanica, Trent is also a GIS / Web Specialist for the Center for Marine and Wetland Studies at Coastal Carolina University.


Sarah McGuire
COASTeam Program Manager

Sarah McGuire is originally from Wilson, NC. She graduated with a B.S. in Biology from East Carolina University in 2003, then worked for Mote Marine Laboratory teaching marine science camp to middle school and high school students. Now, Sarah is working on her Master's degree in the Masters of Environmental Studies Program at the College of Charleston, and will finish up in May 2005. She has been working with the COASTeam Program since fall 2003, first as a volunteer, then as a graduate intern, and now as the Program Manager. After completing her Masters degree, Sarah wants to combine her interests working with middle and high school students with her interests in marine biology to work in the marine education field.