Friday, May 27, 2005

Greeting s From Gray's Reef

Well today was a pretty normal day out here at sea, the weather was not a s good as yesterday, but it was still a great day to be out on the water.

The dives for today went very smoothly. Everyone was busy working on their research, whether that work was under the water or on the ship. Around lunch time the R/V Joe Ferguson docked along side the Foster and Greg McFall, Sarah Fangman, and Jason Alstad (who is the visiting high school student) boarded the Ferguson to return home. Everyone got a chance to say good bye… twice. Jason was not on the Ferguson the first time it left so they had to come back to get him so that he could go home and get back to work.

After everyone said good bye, it was time for more diving. These dives were far from uneventful. As we were leaving the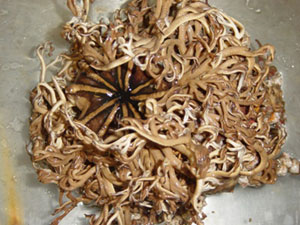 Foster on the dive boat we had some trouble with the GPS (Global Positioning System) and could not find the dive spot were everyone's experiments were taking place. It took us about an hour of trying to work the GPS computer to figure out what the correct coordinates of the dive location were and how to put them into the GPS computer . Meanwhile we were just floating around in the ocean, not going anywere. After we figured out where our dive location was , the dives themselves went very smoothly and we collected lots of critters. Probably the coolest thing that was brought up was a spider crab (decorator crab) that had covered itself in a basket star . In the picture (picture to right) all you can see is the basket star, but believe me there is a spider crab under there.
For tomorrow we should be doing more of the same but as you all know things out at sea can be very unpredictable. Tomorrow , at least for me , will be much busier than the past few days because now that Greg and Sarah are gone I have become the official SCUBA tank filler making sure everyone has some air when they dive!

Until tomorrow,

Ryan